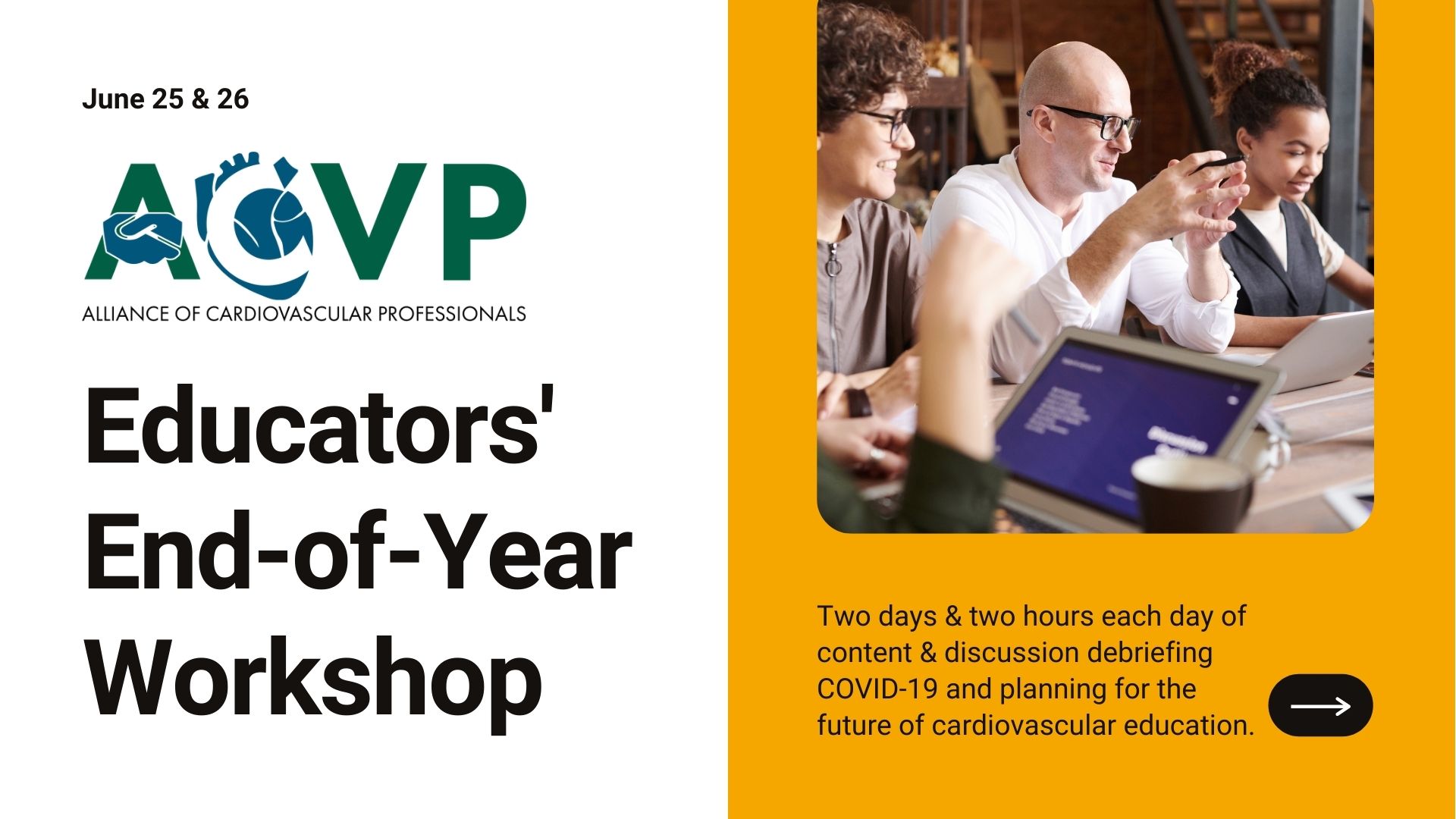 Virtual Conference | ACVP Educators' End-of-Year Workshop
Save the date! The Alliance of Cardiovascular Professionals is announcing a virtual educators' conference for June 25 & 26 with content and discussion debriefing COVID-19 and planning for the future of cardiovascular education. We'll have expert speakers, of course, but we'll also have plenty of time to interface and interact with fellow educators' in breakout discussions and collaborative activities!
A full agenda and more information will be coming soon! Attendance will be limited—so be sure to add this to your calendar and register, today!
This program will be submitted for up to 4.0 contact hours of CEU credit for CCI-credentialed technologists, RNs and Radiologic Technologists.
Preliminary Agenda / Schedule
Friday, June 25 (Times in ET)
3:00PM - Introductions, Welcome
3:15PM - Discussion - Challenges & Goals
3:30PM - Expert/Panel Session - Our 'New Normal' in Education
4:00PM - Discussion / Q&A
4:15PM - Expert/Panel Session - The Future of Education
4:45PM - Discussion / Q&A
5:00PM - Expert/Panel Session - Leveraging Collaborations & Relationships (Clinical Sites & More)
5:30PM - Discussion / Q&A
5:45PM - Summary & Next Steps - Outlining Tomorrow's Agenda
6:00PM - Adjourn
Saturday, June 26 (Times in ET)
10:00AM - Morning Introductions & Discussion
10:15AM - Expert/Panel Session - Motivational Education / Improving Student Outcomes
10:45AM - Expert/Panel Session - Instructional Resources and Online Support
11:15AM - Discussion / Q&A
11:30AM - Expert/Panel Session - Marketing & Meeting Community Needs
12:00PM - Discussion / Q&A
12:15PM - Expert/Panel Session - Pushing the Boundaries / Defining the Educators' Role Post-COVID-19
12:45PM - Discussion / Q&A
1:00PM - Expert/Panel Session - Preparing Students for Future Skills & Continual Learning
1:30PM - Discussion / Q&A
1:45PM - Wrap Up & Takeaways
2:00PM - Adjourn
Registration