COVID-19 may have forced cath lab education to evolve, as we discussed in part one of our interview, but Ben Ochoa, Program Director for Invasive Cardiovascular Technology and Cardiac Sonography Programs at St. Phillips College and a fellow of the Alliance of Cardiovascular Professionals (FACVP), believes our new normal presents opportunities for leaders to revolutionize the field. When it comes to professional growth for cardiac techs and nurses, there are more opportunities than ever—and ACVP can help.
"There's a lot of opportunity to grow… to get this education out there. The opportunity, really, is to almost build a middle class," Ochoa says. The magnitude of this concept wasn't lost on Ochoa, as he expressed how much potential had been found in his program's newfound relationship with virtual learning. Plus, COVID-19 has inspired more students to look into health careers.
Ochoa believes that the virtual classroom has widened the opportunity for upward mobility and for students to find unprecedented levels of availability, from new cardiovascular professionals to experienced professionals seeking next steps in their career. "Our skill sets, they level you up in a sense," says Ochoa. "We see folks in our position—techs, having more pathways to get into next level stuff."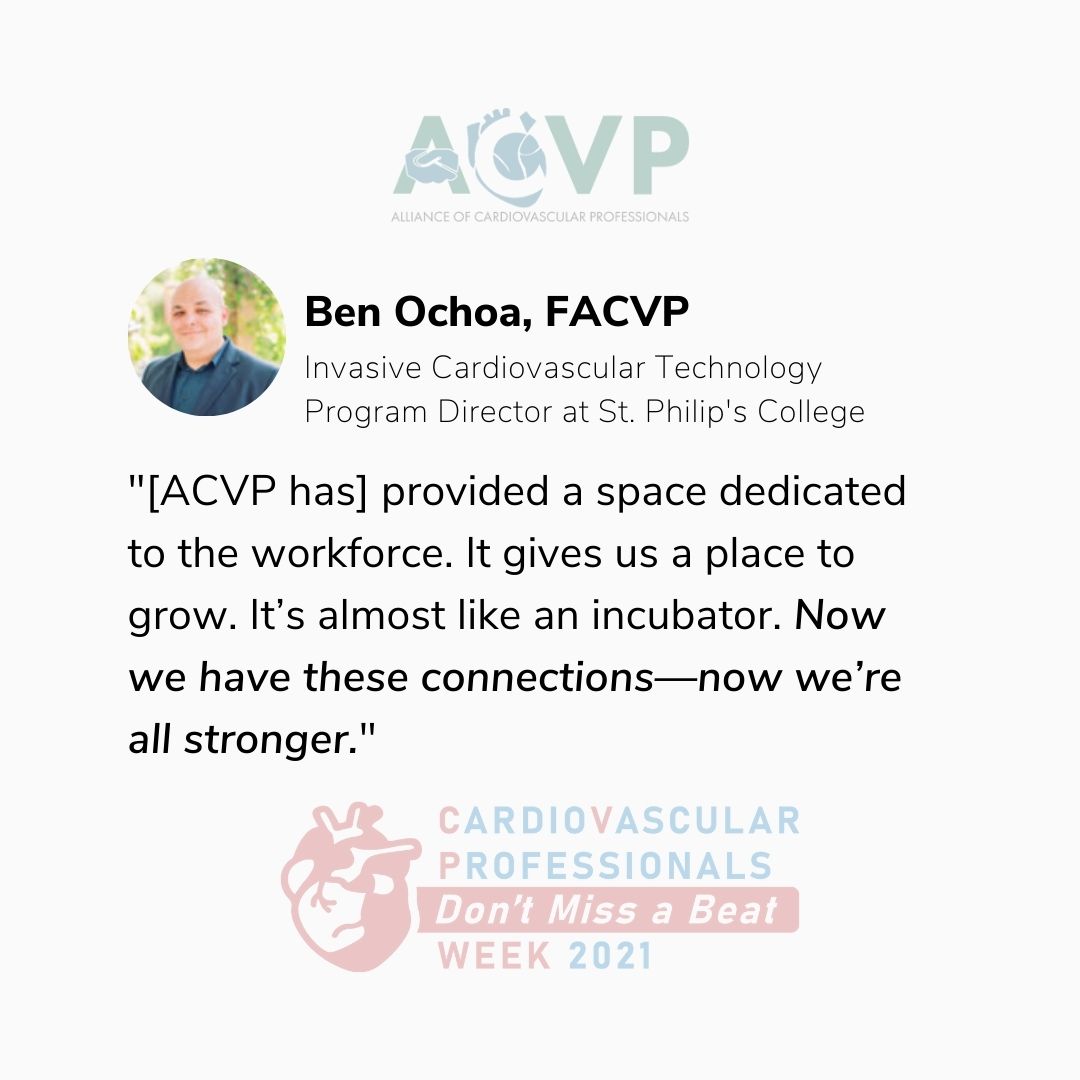 ACVP a crucial resource for professional growth for cardiac techs and nurses
Flexibility and mobility in the virtual classroom are leveling the playing field for those physically distanced from cath labs and for those who might not be able to make the time to participate in traditional schooling. And finding professional resources in groups like ACVP helps professionals—from students to seasoned vets—learn about, access and advocate for these new, evolving pathways.
"Now we get a seat at the table when we think about bigger organizations like ACC—having the space to connect and make those changes has been essential," says Ochoa. "It's hard not to be heard when you're there—when you have a seat at the table. And meeting people with the same path as you, aligning your goals—makes us all better."
ACVP has been an important resource for Ochoa during this time of change. "The best thing is [ACVP] provided an opportunity—for a lot of us, we were just looking to see what's out there, and ACVP has provided the platform to connect," says Ochoa. "They've provided a space dedicated to the workforce. It gives us a place to grow. It's almost like an incubator. Now we have these connections—now we're all stronger."
And ultimately, Ochoa says, this professional growth for cardiac techs and nurses will result in better health outcomes in our communities. "Ultimately, it results in health outcomes," he says. "We see these bonds being made—what comes of those bonds is amazing… I see more collaboration on the horizon—more things making us stronger. I think it makes the healthcare system in general stronger."
While things are changing, coming together as a profession in ACVP allows us to manage that change and take advantage of opportunities.
"We're defining it as we go along," says Ochoa. "There's not really a limit as to what can happen. It's about finding win-wins along the way."
If you aren't, already, consider becoming a member of the Alliance of Cardiovascular Professionals, today, to be a part of the movement. We are stronger, together!
ACVP member updates
For our current members, know that we recently rolled out a new members' forum to facilitate asynchronous collaboration among professionals in a trusted, private space.
We're also currently accepting applications for Fellowship! If you'd like to join outstanding professionals like Ben Ochoa and get recognized for your contributions to the field of cardiovascular care, apply to become an FACVP, today!