Cath lab tech education during COVID-19 has been a challenge, but there's a lot to be optimistic about says Ben Ochoa, Program Director for Invasive Cardiovascular Technology and Cardiac Sonography Programs at St. Phillips College and a fellow of the Alliance of Cardiovascular Professionals (FACVP).
Despite the COVID-19 pandemic, he managed not to miss a beat in fulfilling the cath lab and sonography tech workforce development needs of the San Antonio area. "We have to be safe in what we do—we have to meet these challenges," said Ochoa. "So, we get creative."
Following the February 20 CVP Week CE event Ochoa helped ACVP to organize, he spoke with us about ACVP, the state of cardiovascular programs in the pandemic, and the evolution he sees taking place in cardiovascular care in general.
"A lot has changed since the pandemic," said Ochoa. "[COVID-19] tests the structures you have in place and forces you to evolve to meet those challenges… It forces us to rethink how we get this information to people—how we hold our students accountable—how to work within the limitations that we have and take care of students all at the same time."
Realizing that digital learning was the key to helping students early on in the pandemic, Ochoa focused on finding great content resources and trimming the fat of the didactic process. "What do people really need to know?" he asked. "There's so much redundancy that we face in how things were, so it forces us to be different... We're really optimizing the use of technology. It trims the fat, right? But you still get the beef."
ACVP cath lab tech education (applicable to all cardiovascular professionals) via our virtual CE festivals was an important resource, says Ochoa, along with education and online tutorials from industry partners and other groups. "ACVP, putting out all this education—we've been able to get content flowing to our students without missing a beat. The answers are out there, we have the resources."
That support and ACVP's unique format were big reasons Ochoa volunteered to coordinate and organize a virtual CE event for Cardiovascular Professionals' Week. "The format is amazing, because you can log-in with your phone—you've got people in their pajamas asking questions, making professional connections," said Ochoa. "I enjoy the meetings."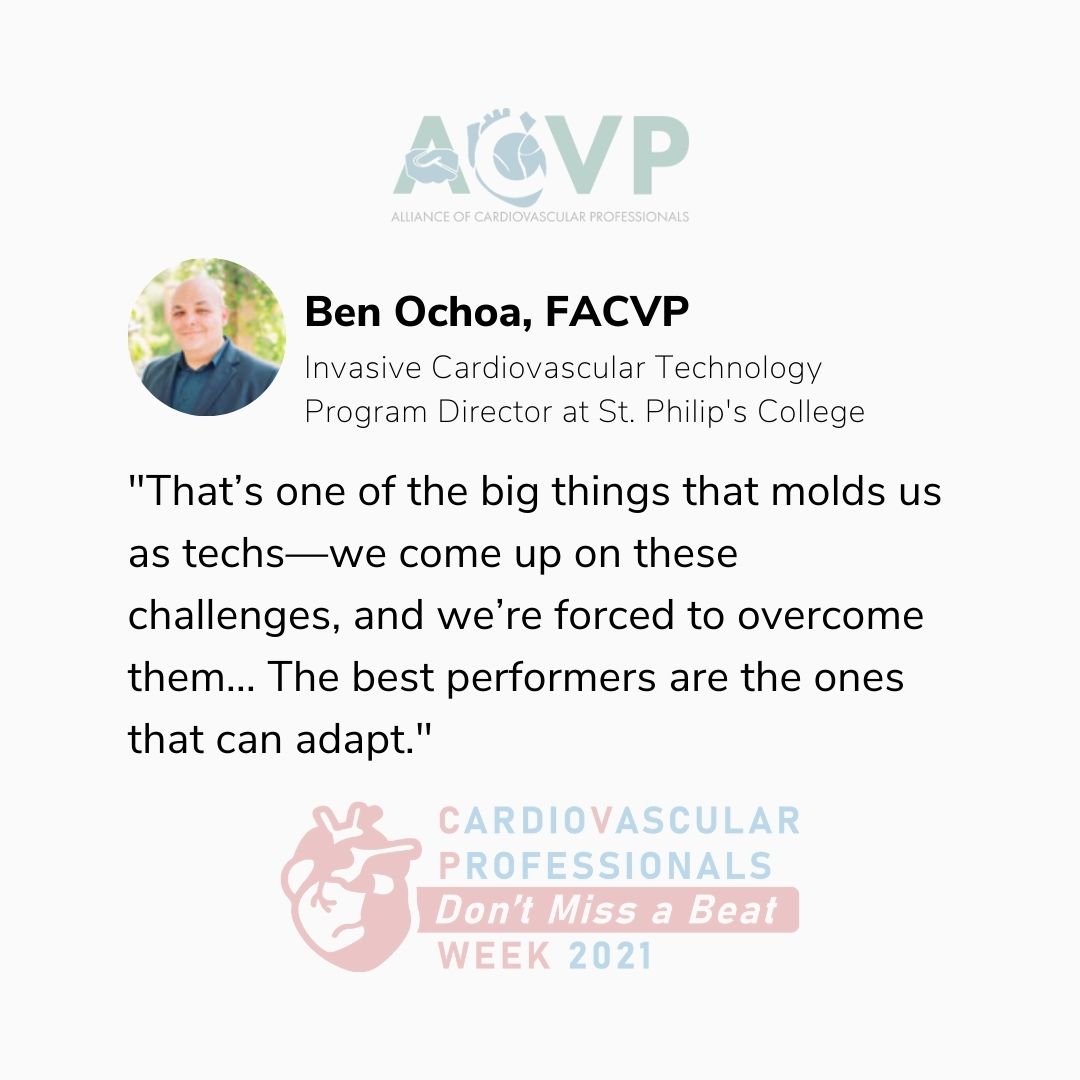 Of course, there were still unique challenges facing this crop of students, especially in getting hands-on learning. For instance, how did students get lab experience from their home? "Simulation is a big thing. That's been difficult for us as educators—how do you get the simulation to the people at home?" asked Ochoa. "I've seen students over the years get really creative—turning their homes into labs and creating this muscle memory."
But ultimately, Ochoa sees these challenges as a positive—part of what molds outstanding and adaptive cardiovascular technologists. "You can only get so much in a classroom, but you get out what you put in," he said. "Students are proving to be resilient in these times. That's one of the big things that molds us as techs—we come up on these challenges, and we're forced to overcome them... The best performers are the ones that can adapt."
Even with an ever-advancing technical landscape, Ochoa notes that clinical preceptors are the ones that keep the wheels turning. "The preceptors… are a big part of their education and their growth. Those folks are the real heroes, I think," he said. "Doing their job, rolling with the punches, and still taking people under their wing and developing them."
Stay tuned for part two of our interview with Ben Ochoa later this week, as we explore his outlook on the future of cath lab tech education and workforce development, including important takeaways from a professional's perspective.
If you'd like to help coordinate a virtual CE event with your team, we'd love to help—and we make it easy. Send ACVP staff a quick email.
ACVP is hosting our next Virtual CE Festival this Saturday, March 13th. It's not too late to register! You can sign up and view the schedule, speakers, and topics here: