CVP Week 2021, February 14-20

Our theme: "Cardiovascular Professionals Don't Miss a Beat"
By the time Cardiovascular Professionals Week arrives, February 14-20, 2021, we'll be nearing an entire year of delivering healthcare through the COVID-19 pandemic.
To say "Cardiovascular Professionals Don't Miss a Beat," any year, would be to recognize the constancy, dedication and professional commitment of invasive and non-invasive professionals delivering emergent and routine care for some of the most vulnerable and intensive populations in the health care system.
To say it in 2021, after nearly a year of this crisis, carries even more weight. We know that cardiovascular professionals and their patients are among those most impacted by this crisis, and yet, cardiovascular professionals don't miss a beat.
Despite even greater requirements and risk to them—above and beyond above-and-beyond—cardiovascular professionals from the front-line technicians and technologists to the administrators who have navigated and led during this crisis have continued to deliver outstanding patient care and save lives in our communities.
This is their week. Cardiovascular Professionals Week: February 14 - 20, 2021.
Ways to Celebrate CVP Week 2021 in 2021
We've overhauled our planning and recognition resources for our 'New Normal.' We've got a whole document full of unique ideas for employee recognition when we are unable to gather in groups, but we'll also be sharing more ideas from our community in the run up to Feb. 14.
Everyone likes pizza, but this time—pizza's not enough.
↓ Download our CVP Week Planning PDF ↓
Support ACVP & recognize your team with official merch: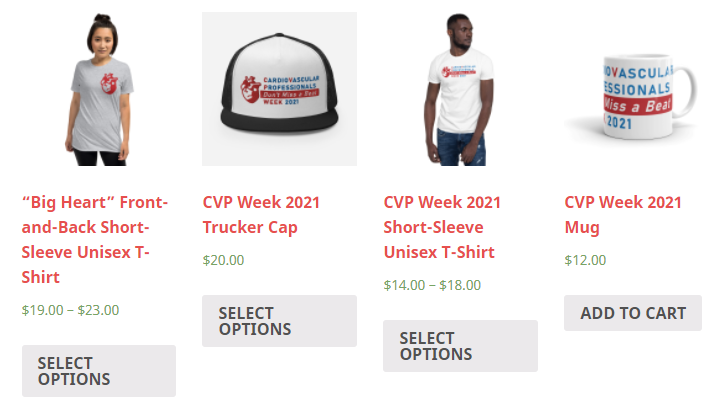 Act now to order official and exclusive CVP Week 2021 promotional merchandise in time for CVP Week, February 14-20. Allow up to two weeks for fulfillment and shipping!
More options will be added to our online store as they become available. Your purchases support the Alliance of Cardiovascular Professionals and raise the profile of the CVP Week event. Thank you!!