CVProfessionals Week: February 13-19, 2022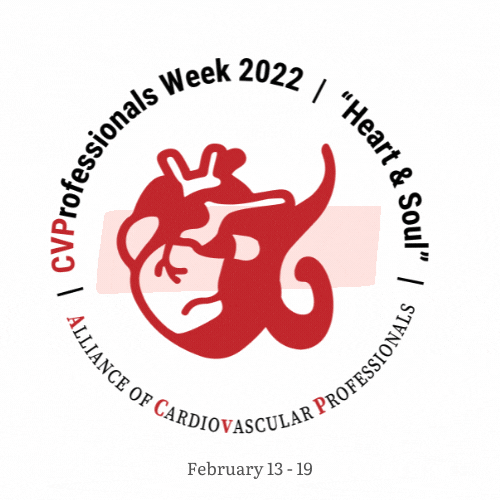 Our theme: "Heart & Soul"
Healthcare professionals have carried the additional burden of COVID-19 through 2020 and 2021 while continuing to provide outstanding and compassionate care.
Cardiovascular professionals, specifically, have demonstrated an enormously compassionate commitment to delivering emergent and routine care for the most vulnerable and intensive populations in the health care system.
Truly, cardiovascular professionals give their heart and soul to their work healing the hearts of individuals, families and communities.
What can be achieved by modern cardiovascular care is nothing short of amazing, and it wouldn't be possible without the many diverse professionals—not only the doctors but also the technologists and nurses providing crucial support and ensuring quick, safe, accurate and compassionate care.
February 13-19, 2022 is their week.
Why is this year's theme Heart and Soul?
For thousands of years, from the ancient civilizations to the modern day, the human heart has held special significance across cultures, historical periods, and communities.
It was believed by the ancient Greeks, for instance, that the human heart was where the soul resided, and that this central organ was the driving force of our physical lives, and our spiritual connection between our personal characters and what exists beyond this life.
While modern medicine and science have progressed drastically since the time of the ancient Greeks, there is still a lingering sense that the heart is somehow connected to something beyond our physical existence.
Consider our many heart-based metaphors! We can say something heartfelt, have a heart of gold, or be broken hearted, for instance.
In addition to their work preserving the physical existence of patients, cardiovascular professionals are also stewards of patients' wellbeing, comfort, and confidence.
This work might properly be called the "soul" of healthcare, and this CVP week we celebrate it in addition to the phenomenal team-based cardiovascular care these professionals deliver.
Ways to Celebrate CVP Week in 2022
We've overhauled our planning and recognition resources for our 'New Normal.' We've got a whole document full of unique ideas for employee recognition when we are unable to gather in groups, but we'll also be sharing more ideas from our community in the run up to Feb. 13.
Everyone likes pizza, but this time—pizza's not enough.
Support ACVP & recognize your team with official merch:
Act now to order official and exclusive CVP Week 2022 promotional merchandise in time for CVP Week, February 13-19. Allow up to two weeks for fulfillment and shipping!
More options will be added to our online store as they become available. Your purchases support the Alliance of Cardiovascular Professionals and raise the profile of the CVP Week event. Thank you!!