Over five years ago, I said 'enough' to bureaucrats in Sacramento. To stand up to them alone seemed like a David and Goliath moment.

So I reached out to ACVP for help. I have never been alone since then. Working as an individual, you can accomplish a lot, but working as a group, like ACVP, you can accomplish whatever you set your sights on.

I am proud to say, we are almost finished with regulations that will protect the future of cardiovascular professionals. Together, we are helping to protect and shape the future of cardiac care.
ACVP Member, Ed Pezanoski, RCIS
---
LATEST UPDATE:
May 5, 2016
---
OLDER UPDATES

A Step Forward for CVTs in California
ADVOCACY UPDATE FEB. 9, 2016
In October, 2015, the Radiologic Technology Certification Committee in California unanimously passed a motion allowing an individual under the direct and immediate supervision of the S&O to use an assistant in the real time movement of the patient under fluoroscopy, provided that:
a CRT is present in the room and is managing the radiation exposure and x-ray equipment,
and that the assistant has the documented radiation safety training required to be established by the facility.
Since our advocacy efforts detailed below, this is a step in the right direction for team-based care in California.
"Prior interpretation had taken away the privilege for physicians and hospitals to choose proper staffing and did not allow for the Cardiovascular Technologist (CVT) to work within their recognized Scope of Practice," summarized Ed Pezanoski, RCIS.
This motion provides the avenue for the Radiologic Health Branch in Calfornia to issue a statement and remove the unnecessary restrictions placed on the S&O and Cardiovascular Technologist with regards to fluoroscopy procedures.
It further allows for the proper interpretation and implementation of the Title 22, Section 70435 regulation which states a CVT shall assist during the performance of all procedures in the cardiac catheterization lab.
The Radiologic Health Branch has committed to evaluate the committee's motion against their laws and regulations and will report back to the RTCC at the next meeting scheduled for April 13, 2016.
If this issue affects you or you wish to support CVTs in California, contact the Calfornia Radiologic Health Branch mentioning your support of the RTCC's motion.
If you have any further information regarding the issue to share, please contact: kurt@cardioce.org. For more background on the issue, continue reading below.
---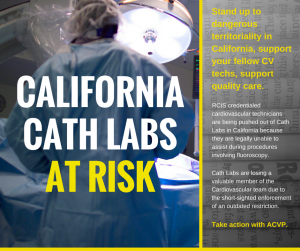 FROM CV DIRECTIONS VOL. 2 NO. 2
The Alliance of Cardiovascular Professionals has been advocating on behalf of Cardiovascular Technicians with the RCIS credential in California.
Title 17 of the California Code of Regulations governing the positioning of patients and equipment during all fluoroscopy procedures requires that these tasks be performed by a professional with a California fluoroscopy permit. Permits are issued after demonstrating adequate knowledge of the procedure via an exam.
The issue at hand is not whether or not RCIS professionals should have to receive a fluoroscopy permit, but rather whether or not they should be allowed to demonstrate their knowledge by sitting for the exam.
As it stands, Radiologic Technologists credentialed by ARRT are the only professionals in California allowed to sit for the exam, and thusly the only professionals allowed to assist during procedures involving fluoroscopy.
Indeed, RTs are an important member of the Cath Lab team, as they bring a deep knowledge base of radiation safety and procedures that is particularly important at a time when it has become clear that radiation is a serious safety issue for Cath Lab professionals. ACVP hopes that RTs working in Cath Labs will lead the charge on changing radiation culture to improve the health and safety of all cardiovascular professionals.
But there are unintended consequences resulting from this legislation. Because it is illegal for them to assist during crucial Cath Lab procedures, CV Techs are being pushed out of Cath Labs in California, and these labs are losing equally valuable members of their teams.
The fact is, this regulation was created at a time when fluoroscopy was not being used in the Cath Lab, and it does not take into account Cath Lab-specific issues that affect the health and safety of patients. It also does not take into account the opinions of the attending physician cardiologists who have argued that RCIS-credentialed employees are qualified to assist during fluoroscopy.
A group of Radiologic Technologists in California has worked against providing an exemption to RCIS-credentialed professionals, arguing that (1) RCIS education in radiology is substandard, (2) that allowing RCIS personnel to assist fluoroscopy is a "de-regulation" of a dangerous procedure, and (3) that this allowance poses a threat to the RT's scope of practice.
(1) Specific does not mean substandard. While RCIS-credentialed professionals are not educated in the radiography of bones, they are educated and trained in fluoroscopy and radiation safety as it related to the Cath Lab.
(2) While it is illegal for RCIS credentialed professionals to assist during procedures involving fluoroscopy, for which they have been specifically educated and trained, it is not illegal for Radiologic technologists to assist in similarly complex and dangerous cardiac procedures, for which they received no formal education. The fact is, not allowing RCIS professionals to work in the Cath Lab is equally if not more harmful to the health and safety of patients.
(3) The Cardiovascular technician brings a very specific and different set of competencies to the Cath Lab than the RT does. Allowing RCIS-credentialed professionals in the Cath Lab does not affect the RTs scope of practice. Not allowing them in the Cath Lab eliminates the entire scope of practice of the RCIS.
The Alliance of Cardiovascular Professionals firmly believes in a team-based approach to health care, which promotes best practices and quality care. Territorial and political arguments such as these are hurting Californians.
The Alliance of Cardiovascular Professionals recently discovered a more recent regulation in the California Code of Regulations, Title 22, specifically governing the Catheterization Laboratory. This regulation, Title 22, Division 5, section 70435 (a)(3) specifically requires an RCIS-credentialed to be employed in the Cath Lab, specifically recognizing that radiologic procedures are conducted during procedures.
The Executive Director of ACVP, Peggy McElgunn, Esq. recently sent a letter to the Chief of the Department of Public Health, Radiologic Health Branch in California, Mr. Gonzalo Perez arguing that since this regulation incorporates this recognition, it is apparent that Title 17 has been misinterpreted by the Radiologic Technology Certification Committee.
ACVP asks its members, especially those working or who have worked in California, to act now to promote these beneficial changes for which the Alliance is advocating.
The Alliance of Cardiovascular Professionals is always prepared to act in the best interest of quality health care and its members.