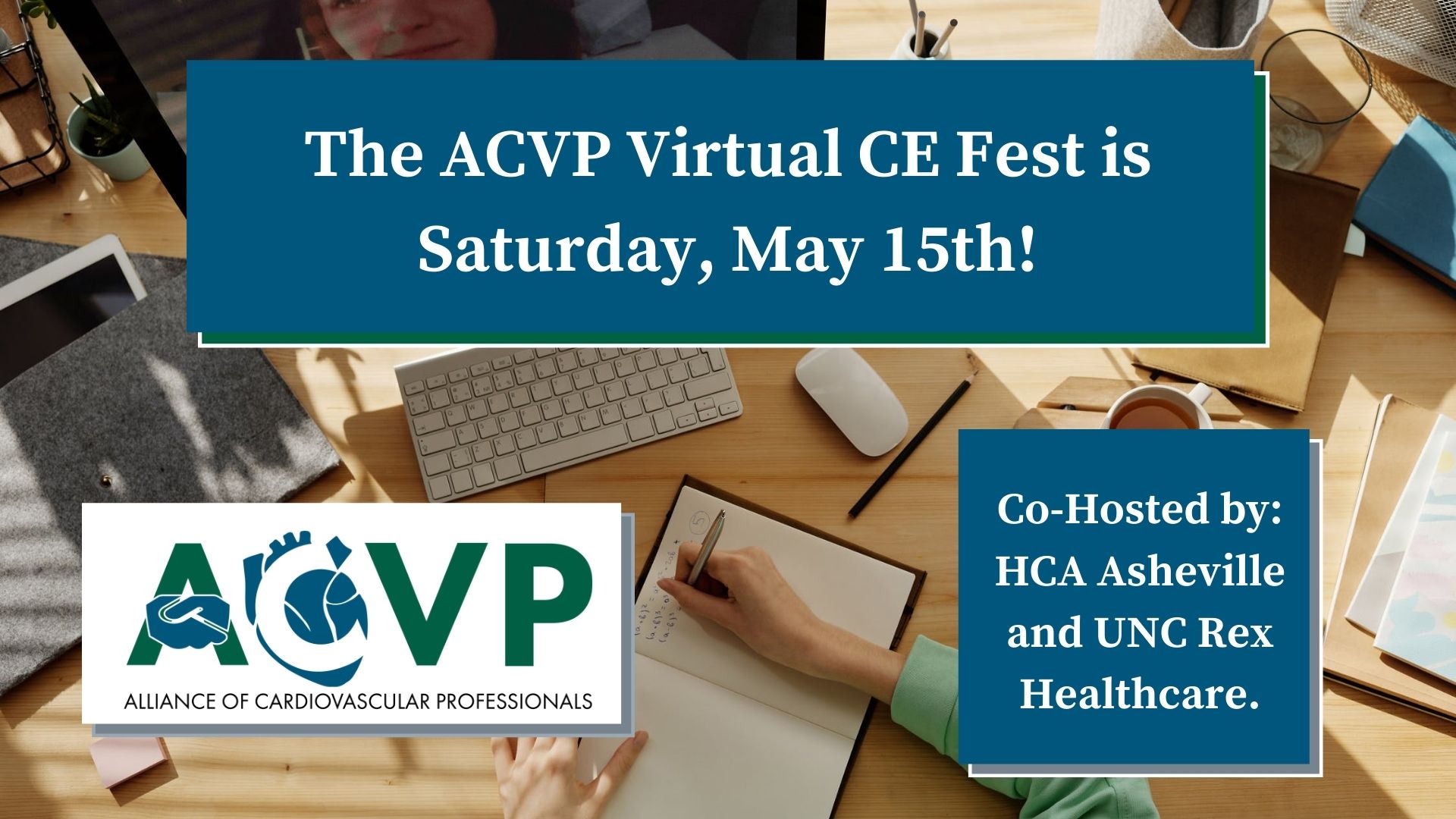 CE FEST | May 15 ACVP CE Festival with HCA Asheville & UNC Rex Healthcare
RNs, RTs and all Cardiovascular Technologists (RCIS, RCES and all CCI credentialed professionals included) can earn 6.0+ contact hours of continuing education by attending the Alliance of Cardiovascular Professionals' Virtual CE Festival Saturday, May 15. Register and attend complete sessions to earn credit—drop-in or drop-out on your schedule, from your home. Plus, pay what you think is fair.
Program Schedule - to come!
We're still confirming our schedule and speakers, but to get a feel for our CE Festival format, you can view a previous schedule, here!
Earning CE Credit
You must REGISTER on acp-online.org (below) and ATTEND the LIVE, VIRTUAL SESSIONS in order to earn CE credit.
FOLLOW INSTRUCTIONS from ACVP moderators before, during and after each live session to ensure you earn continuing education credit.
You will need to COMPLETE SURVEY EVALUATIONS for each session that you attend and for which you want to receive CE credit.
You will RECEIVE CERTIFICATES via EMAIL within two weeks of completing your evaluations.
ACVP Members, Current Students & Host Employees, Register Free »
Alliance of Cardiovascular Professionals' Members, current students and professionals who work at HCA Asheville and UNC Rex Healthcare can attend these virtual sessions entirely free. If that applies to you, follow this link to register: (complimentary registration) »
ACVP members can attend, complimentary, thanks to their on-going support of our organization's mission! Team members at HCA Asheville and UNC Rex can attend, complimentary, thanks to the generous contributions of their outstanding faculty.
Esteemed Guests, Pay What You Think is Fair
For non-ACVP-members and professionals from elsewhere, we of course want you to attend and enrich our virtual experience, and we don't want price to be a barrier! You can also receive CE credit by registering with the form below, with a minimum contribution of $10 dollars.
Our suggestion: non-ACVP members should pay a suggested $10 dollars per CE contact hour credit they plan to request by attending. Continuing education certification is not free for our organization, and your contribution will cover our costs for providing this education and further our mission to support non-physicians in cardiovascular care. We believe this suggested pricing is extremely fair based on the timeliness and quality of the material presented as well as the market for on-demand, virtual CEs in cardiovascular care.
Of course, we'd extremely appreciate your support as a member of the Alliance of Cardiovascular Professionals. Register, below, with a contribution of at least $60 dollars, and you'll receive a complimentary YEAR of ACVP membership in addition to your conference registration. This applies to both current and non-ACVP members. Contribute $60 dollars and attend our event and receive a YEAR of membership. (Normally $85 dollars!) That also means if you're a non-member and pay our suggested fee for complete registration, you'll also receive a complimentary year of ACVP membership!
Next Event
Date

Jun 25 - 26 2021

Time

4:00 pm - 11:00 am