Wage Survey Report Available for Members
Alliance of Cardiovascular Professionals members can access results from our comprehensive 2017 wage survey which can provide valuable career guidance, especially if you are seeking a new position or negotiating your salary.
Thanks to our network, the data reported in this survey provided unique insights into cardiac professionals' wages across regions, specialties and disciplines.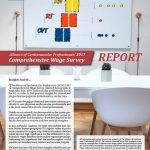 Wage Survey Report »
MEMBERS-ONLY: Results are in from the Alliance of Cardiovascular Professionals' 2017 Comprehensive Wage Survey report, available now for ACVP members. ACVP's survey collected demographic and wage data from 450+ cardiovascular professionals across the U.S. in order to find practical insights for current and prospective non-physician professionals in cardiac care.
Join ACVP for Immediate Access
Access the above resources immediately by creating an account and joining the Alliance of Cardiovascular Professionals, online. As a member, you'll also get access to our supportive network of members and professionals who can help you further your career or find new opportunities. We look forward to supporting you as a member!