On Thursday, June 25 at 12PM Eastern, we are excited to bring you the second in our series of free cardiac CE webinars! This webinar will be a live-streamed, remote expert panel discussion on 'the New Normal' in cardiac care following COVID-19 fallout, with our experts taking a more speculative look into the near and distant future.
Our panel features our truly outstanding line-up of non-physician administrators at the top of the field of cardiovascular care as well as the fantastic Dr. Seth Bilazarian, MD, Vice President of Clinical Education and Training at Abiomed.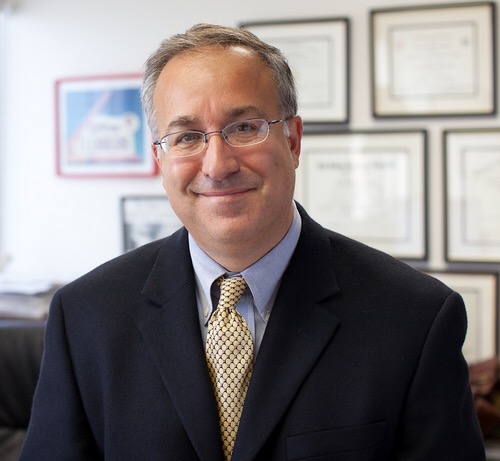 Dr. Seth Bilazarian joined Abiomed in 2015 and leads the Medical Office's Clinical Education and Training Programs in its mission to recover hearts and save lives, using the Impella platform of devices. He practiced clinical and interventional cardiology in the cath lab for 23 years before joining Abiomed where he collaborates with interventional cardiology and heart failure specialists to develop best practices for use of the Impella platform in Protected PCI and Cardiogenic Shock, and physician investigators in pre-clinical and clinical research in ventricular unloading.
Access instructions for our free cardiac CE webinars:
We're streaming the webinar, live, on YouTube! Anyone can access the webinar on Thursday at this link: https://www.youtube.com/watch?v=zmhSysWnI-A
As we'll be on YouTube, you'll be able to view the webinar on your phone, desktop, or even your Smart TVs—but in order to participate in the stream chat, you should access the webinar from a desktop or laptop computer.
The live webinar will be eligible for 1 contact hour of continuing education credit recognized by ACVP's CaPCE accreditation program for all cardiovascular technologists, sonographers and registered nurses, as well as the Association of Vascular and Interventional Radiographers, an ARRT-recognized CE evaluator (RCEEM+), for radiologic technologists.
To ensure you receive continuing education credit, you must register for the webinar.
Register. Register on ACVP's website to ensure delivery of continuing education credit.
Attend & Evaluate. Attend the live webinar and complete an evaluation - link will be sent to registrants and advertised at the end of the webinar.
Receive credit via email. You will receive an email from me within two weeks with your certificate!
---
Catch up on our last webinar:
In the first expert panel discussion of our free cardiac ce webinars series, on June 4, 2020 our panelists discussed how their organizations are contending with the Covid-19 pandemic. We explored the immediate impact that Covid-19 has had on organizations in terms of staff retention and restructuring, new care delivery processes in the wake of Covid-19, information sharing within and between institutions, permutations of "trust" in the time of a pandemic, employee emotional responses to increased stress and accelerated changes, and many more topics relevant to how Covid-19 continues to change the way we work.
You can catch up by watching the webinar via our on-demand education platform, for which you can earn CE credit! But if you'd rather cut straight to the information shared, we've summarized the main points of discussion and commentary, below.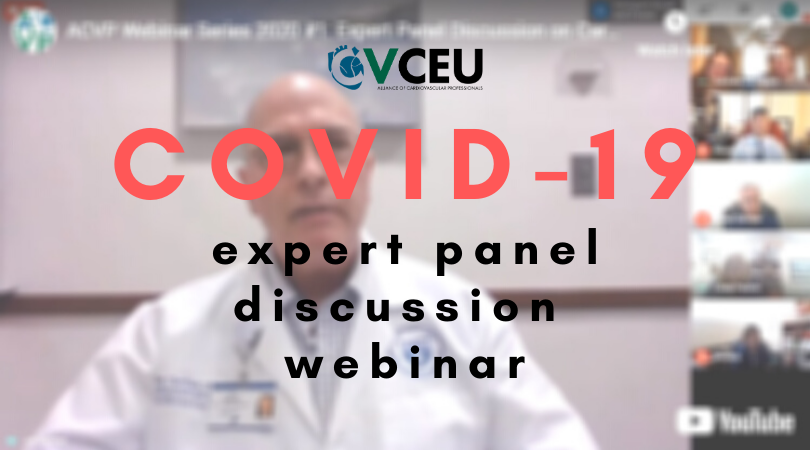 Our outstanding panelists:
---
Regarding initial slowdowns in treatment volume in response to Covid-19, staff retention, and the restructuring of care delivery processes as part of a staged return to "normal" care.
M.F.B. – At Shands' Cardiovascular Center, staff were retained without layoffs
Employees were allowed to go up to 80 hours negative into their PL Time
The University of Florida received additional funding which was used to mitigate some of the drops in procedure volume
M.F.B. – Shands' Cardiovascular Center was quick to adjust protocols to meet new safety requirements, and provide for greater flexibility in the face of Covid-19
Shands' CC was able to transition from doing zero telemedicine encounters, to a great deal of telemedicine visits quickly

In addition to reducing patient & provider risk of exposure to Covid-19, the incorporation of virtual health encounters allowed Shands' to assuage patient fears around receiving care in the midst of the pandemic

Virtual modalities à telemedicine (sticking around)

Covid-19 testing sites were put in place anywhere Shands' staff were deployed

For example, temperatures are taken at every entrance to the hospital

Stress testing was halted entirely, and only urgent catheterization procedures were permitted

This illustrates a drastic drop in procedural volume, especially for outpatient/elective procedures

As elective procedures started being added back to Shands' workflow, initially only 50% capacity was permitted for all testing areas

This intentional limit was set in order to allow for thorough cleaning of the testing area between patient appointments, and to permit easier social distancing in the patient waiting area

One-day-prior drive through testing was added to the workflow as well, so that Shands' could screen all patients for Covid-19 prior to the scheduled appointment
J.G. – St. Elizabeth's Medical Center (Boston, MA) saw a 90% drop in procedures
This drop in procedure volume was experienced throughout the Boston area
This drop in procedure volume also predicated 20% of staff being furloughed throughout the organization
Salary reductions were also part of St. Elizabeth's response
Recently, St. Elizabeth's began pursuing a "soft reopening" based on CDC guidelines
J.G. – St. Elizabeth's saw staff roles shift in response to Covid-19, with many being assigned tasks for which they were not previously trained, or had little experience
Physicians were redeployed to EICUs
Nurses at St. Elizabeth's main Boston hospital organized drive through testing
G.B. – Steward Healthcare, which encompasses 37 hospitals, chose to reduce staff time to 32 hours to avoid furloughing employees during the initial drop in procedure volume
They also began monitoring volume throughout the country, and issuing a weekly report to highlight where specific decreases were
In addition to these steps, Steward Healthcare also maintains a "hardship fund," which has been used in part in their response to Covid-19
L.P. – The ambulatory surgery center at Bon Secours was converted into a 12-bed Covid-19 ICU
D.S. – Saint Luke's Mid America Heart Institute moved quickly to reconfigure the physical space and understand new applications of currently used technology
Leadership at St. Luke's understood the severity/potential of the pandemic early on, and rapidly created more ICU beds

27 beds from the Cath Lab were converted into Covid-19 ICU beds

Leadership also undertook a thorough evaluation of hospital resources for anesthesia and ventilators
The Electronic Medical Record (EMR) system was used for triage and staging patients, and has demonstrated its value
St. Luke's IT system has gained greater importance during this time as employees are working from home more frequently
K.F. – Acknowledging that the pandemic would have an immediate impact on the ability to do in-person demonstrations and training, Cordis pursued virtual workarounds
The development of simulation modalities for teaching the proper use of clinical equipment were accelerated
The primary hurdle faced by Cordis was "trying to work around a lack of haptic feedback," which led to the development of staged and thorough recall exercises for the steps in the clinical routine
---
Regarding information-sharing & communication within and between healthcare institutions
J.G. – St. Elizabeth's Medical Center sought to identify best practices in relation to Covid-19 treatment, administrative processes, and communication
Within Steward Health, but also within the city of Boston, the pursuit of accurate and up-to-date information facilitated collaboration between partners (i.e. affiliates) within the Steward Healthcare system, as well as institutions considered "competitors" in the past

In Jon's words, there were many "walls that came down" internally and within the greater healthcare space in Boston, in terms of collaborative effort
G.B. – The aggregate expertise, data, and leadership of Steward Healthcare have been leveraged for problem-solving efforts, meeting the staffing needs across the system, and ongoing training in regard to Covid-19
The Radiology & Cardiology Directors from across 37 hospitals were convened into a single problem-solving team for Steward Health
Nurses from Steward Health sites in AZ and FL came to Boston early on to help out in the hospital, volunteering to leave their families and come assist where there were more staff needs
Throughout this crisis, the less experienced hospitals and professionals have been able to receive advice quickly, because of the open and frequent communication throughout the system

In this way, the present moment of necessary frequent communication is being used to bring hospitals throughout the system up to the same level of care

Steward uses a godfather/godmother system, wherein new directors are assigned a godparent who becomes their primary contact for a year

This has opened the door to unimpeded calls for advice, feedback, etc.
L.P. – Bon Secours centralized their resources, both informational resources and material resources, to facilitate a more coordinated response to the pandemic
The incident command center uses a "spoke and wheel" structure to disseminate information quickly
R.R. – Loma Linda University Medical Center quickly set up a central location for information and updates related to Covid-19
This allowed for the dissemination of consistent information across the whole organization from a central repository

Email, daily communication briefings on the units, use of the internal alert system

An advisory board was created to act as a catalogue of useful information, and to facilitate access to new information
D.S. – St. Luke's organized an "incident command center" to identify best practices (clinical and administrative), and disseminate Covid-19-related information
The command center hosts two webinars daily
Because St. Luke's Mid America is comprised of hospital-owned practices for most of the physicians, there has been good collaboration between ambulatory and in-patient elements

---
Regarding leadership and the qualities & practices that make leaders effective
L.P. – Leadership is dependent upon accurate information, effective communication, and strong relationships throughout an organization
"As a leader, to have integrity, you have to be able to have your employees trust you."
R.R. – Leading with information at the forefront, new perspectives are more easily incorporated, and a coordinated response can be more easily agreed upon and pursued
The command center provided opportunity for natural leadership to emerge at Loma Linda
Each leader had a well-defined role in the command center, which allowed them to bring outside information into the view of the entire organization
Natural leadership had the role of calming fears as well as ensuring that a systematic approach was taken to information-sharing and changing protocols
---
Regarding responses to employee emotional & financial adversity in the midst of the ongoing pandemic
D.S – St. Luke's approach to emotional distress and wellbeing has incorporated a number of new protocols, communication techniques, and programs for staff
Emphasizing transparency from leaders down through staff has been critical for candid acknowledgment of the current situation and new developments
Conceding that these are not normal times is a first step to addressing the emotional difficulties as well as clinical problems which arise
St. Luke's has set up an employee assistance program for people who are struggling with personal issues related to the pandemic as well as the protests

For example, on Sunday night (5/31) the hospital had to close its ventilation because the tear gas used on protesters was getting into the air ducts

Part of leaderships role has been in encouraging employees to take advantage of the resources at their disposal to maintain their own health and wellbeing
St. Luke's has been having a daily huddle to ask "how are you doing?" to staff, which they have identified as a potential best practice during this period of uncertainty
M.F.B. – Shand's Cardiovascular Center has seen an influx of community support which has been great for staff (and patient) morale
People have sent gifts, food, children have sent letters

This reinforcement can provide a physical reminder of the impact of healthcare professionals' work for the community, as letters, gifts, etc. can be displayed around the hospital
R.R. – Loma Linda saw an immediate community response, and instituted new protocols to assess and mitigate employee stress
The initial community response was so powerful that Loma Linda needed to create a sub task group to monitor and control it
Loma Linda has incorporated a daily critical stress debriefing "huddle" for staff at the end of each full day
J.G. – St. Elizabeth's community support has been similarly felt by staff, as well as setting up a new fund for staff experiencing hardship
Celebrating the positive has been an aspect of their response as well (i.e. applauding a successful discharge to home), which has contributed to the encouragement felt by staff
Steward Healthcare (of which St. Elizabeth's is a part) set up a 501c3 disaster relief fund to help people who were hurting, not only financially, but with initiatives and services for emotional distress
L.P. – Bon Secours has organized virtual employee supports as well as new funding initiatives to assist employees who have been detrimentally impacted by Covid-19
They have organized a hardship fund for people whose hours have had to be flexed, and to assist with restorative pay
They have coordinated a regular webinar with Life Matters, an employee program where individuals can privately discuss their personal issues and stress
K.F. – Cordis' response has tried to account both for the hospitals with whom they work as well as Cordis' own staff
Acknowledging the stagnation of cath labs that have not been inundated with Covid-19 cases, Cordis has focused heavily on providing virtual support and skills assistance
Within Cordis, staff have been offered the opportunity to participate in different workouts, guided yoga sessions, and mindfulness exercises
---
Q: When will we return to a more normal procedure volume in Cardiology?
G.B. – We will see cases slowly come back up, and probably be back to a more "standard" workflow by the end of October/beginning of November
J.G. – St. Elizabeth's is currently stockpiling PPE, as we get a sense of what will happen over the next couple weeks (Jon also mentioned 'Futureloop,' a crowd intelligence website which offers information about ongoing developments across fields)
Q: Are student rotations being held still, and if not, what are the workarounds?
R.R. – Yes, they are still being held currently with a virtual format in ground rounds
L.P. – Bon Secours is connected to a lot of respiratory therapy and nursing schools, and they are starting back up with clinical rotations in August when school begins.

Students are being given the same guidelines as employees (i.e. their temperatures will be taken, and they will be asked screening questions)
---
Connect with our Panelists, Thursday at 12PM Eastern!
While these free cardiac CE webinars are no true substitute for meeting in person, we would otherwise be missing out on opportunities for professional development, networking and growth for the foreseeable future, and that would be a negative for you and for the field of cardiac care.
Even though we're virtual, this will still be a really valuable event for all of us. Valuable not only because our panelists are absolutely stellar leaders of ACVP and cardiovascular care in general - but because YOU will be there, in numbers! For our first webinar, we had over 120 concurrent viewers joining to watch our panelists, live, and we've gotten even more registrants for the webinar on Thursday!
Audience members will have chances to engage and network with both the panelists and each other via YouTube's stream chat functions. Of course, we want as many people as possible to join us for this free cardiac continuing education webinar - so please share information about our event to your connections! Your attending and sharing will also help support these free cardiac CE webinars and the Alliance of Cardiovascular Professionals.
Again, you must register to earn continuing education credit.