Thanks to the recent adoption of a new code of ethical conduct by MedTech Europe, a group of industry associations doing business in Europe, the future of European cardiology conferences may soon be in jeopardy.
The reason? More barriers to attendance.
It's not that these conferences suffer from a lack of interested medical professionals. It's just that, while many MDs would very much like to attend, registering for a cardiology conference in Europe is not cheap—on the order of thousands of dollars per event.
Everybody, the attendees, the presenters, with the exception of a very limited number of senior professors, has to pay, and it is understood that the physicians will attend more than a few over the course of a year.
And, in the time honored tradition of using off-site attractions as a lure for good registration numbers, the meetings are held in "not cheap" locations across the Continent, further ballooning the cost of attendance.
As a result, most European doctors, especially younger physicians, have come to rely on financial support from the supplier community to underwrite their trips and registration fees for scientific conferences, something that was a fairly common practice in the U.S. until the mid-1990s.
Supporting "your" doctors in exchange for the quid pro quo of business has been an accepted practice in the CV supplier community for years. The new European code of ethical conduct focuses specifically on stemming and ultimately eliminating these potential conflicts of interest, much as regulations defining, severely limiting and/or eliminating "cozy" medical business practices have done in the US.
But, without the financial support of the manufacturers and suppliers, the rank and file practicing physicians who present papers, learn from colleagues and share best practices at these events cannot afford to cover the expenses to participate. Attendance will plummet.
As someone once said, "Ah, there's the rub."
Without solutions to the cost problem of meetings, attendance will plummet, and this will have a chilling effect on medical education and sharing of best practices.
While it's not possible to quantify the benefit of person-to-person exchanges at these meetings, they are surely good for patient care. These sorts of conversations and "pooling the brainpower" simply do not happen during webinars or email exchanges.
And, even though social media is a terrific new tool, it does not---and never will---replace face to face interaction.
By now, you're probably asking yourself how this could possibly have any relevance to ACVP? Over 8 years ago, ACVP was faced with a similar problem, albeit on a smaller scale.
Prior to 2008, ACVP held two National Meetings every year, in various parts of the country. Our attendees attended on behalf of the hospitals that they worked for, and their travel and room-and-board expenses were covered by their institutions.
Then, in 2008, the Great Recession resulted in hospitals' travel and education budgets drying up, with the first parts of the budgets affected being non-physician travel and meetings money. We were, effectively, dead in the water.
Eight years later, our solution has managed to remain fully compliant with conflict-of-interest regulations and---at the same time---annual attendance at ACVP conferences has quintupled.
How? Especially in device-heavy fields like Cardiovascular Medicine, in-person cardiac professional education conferences are important, some might say essential.
ACVP continued to provide interprofessional cardiac education in-person by having industry underwrite the meeting, not the attendee; and to reduce/eliminate other attendant expenses associated with "traditional" meetings by partnering with Cardiovascular Centers to serve as host sites.
We now produce an annual series of between 20 and 30 streamlined, totally education-focused meetings, all across the country, delivering education worth anywhere from 4 to 9 CEUs, in a live format, all while fostering robust discussions around topics that are chosen specifically for their relevance to the host site and to staff from other hospitals in the Region.
The cost for travel and registration to host site staff? ZERO. And for staff from other CV centers in the area? They pay a minimal registration fee of $65.
As for the supplier companies, they receive full credit for sponsorship at the meeting in the forms of on-site signage, recognition in the syllabus and in the program; publicity in ACVP's publications and social media, and the opportunity to place an educational display of their products or services on-site during the event.
Because we view and treat these displays and the supplier reps as extensions of the educational content of the meeting, attendee interaction with exhibitors is robust, affording the opportunity for practitioners, presenters and exhibitors to interact and share best practices.
The net result is pretty significant, and speaks directly to the issues faced by our European counterparts.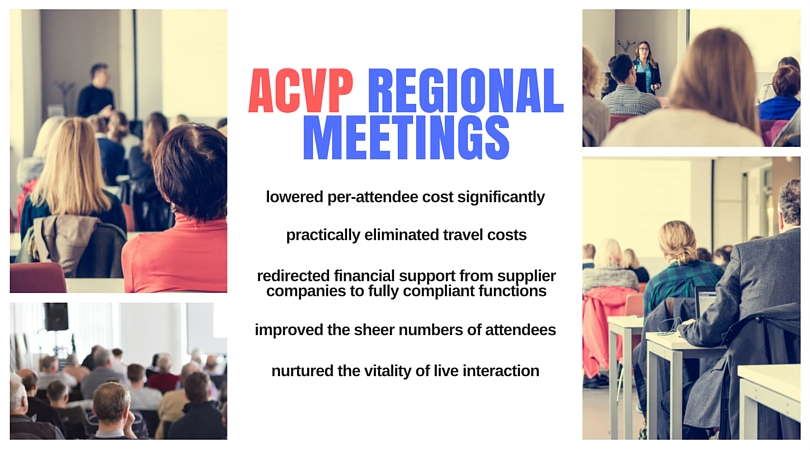 By adopting the above steps, we:
lowered the per-attendee cost significantly;
practically eliminated travel costs as a factor;
redirected financial support from supplier companies to fully compliant functions (underwriting meetings or specific functions within the meetings);
improved the sheer numbers of attendees participating in ACVP events;
and nurtured the vitality of live interaction between attendees of all stripes.
ACVP also managed to preserve the client/server relationship at the local level, where, ultimately, business relationships need to be.
---
Want to bring an ACVP interprofessional cardiac education to your area? Host a meeting!
---