Sotalol delivered intravenously can offer a one-day regimen initiation for adults with atrial fibrillation, resulting in far shorter hospital stays and reducing hospital costs.
AltaThera Pharmaceuticals partnered with the Alliance of Cardiovascular Professionals to share information about their collaboration with the Federal Drug Administration to bring IV Sotalol back to the market and expand its use for this patient population.
The full presentation will be featured as part of Saturday's Virtual Continuing Education Festival, featuring 8.0 contact hours of continuing education for radiologic technologists, registered nurses and cardiovascular technologists.
In this blog, we offer a sneak-preview of AltaThera's presentation and an example of the excellent, cutting edge education offered by ACVP and our partners and volunteers.
3 Days to 1: Shorter Hospital Stays for Adults with A-Fib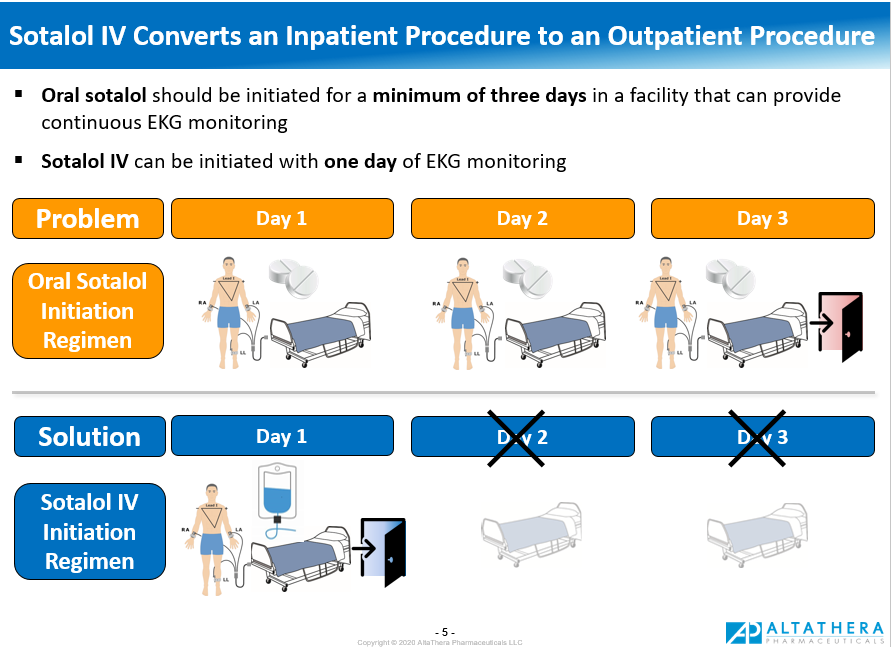 Oral sotalol "has been available for over 25 years, and is the second most prescribed antiarrhythmic," says Rachael Durie, PharmD of AltaThera Pharmaceuticals. The drug is indicated for the maintenance of normal sinus rhythm in patients with highly symptomatic atrial fibrillation or flutter. Sotalol is one of only two class III antiarrhythmic drugs, along with Amiodarone, that are offered in both intravenous and oral formulations, and indicated for both atrial and ventricular arrhythmias.
"Where they differ is in their adverse effects," says Durie. "Amiodarone has such long-term toxicity... if the patient does experience toxicity, it could take almost six months for this to be washed out of the system, whereas all of the other oral agents have a half-life of about 12 hours and can easily be washed out in just three days."
But what's the benefit of delivering the antiarrhythmic sotalol via IV? Far shorter hospital stays for these patients, reducing necessary monitoring from three days to one.
A major drawback of the oral formulation is that patients should be initiated for a minimum of three days in a facility that can provide continuous EKG monitoring. "This is due to the pharmacokinetics of oral sotalol," says Durie, as she explains in her continuing education presentation which will air at 11:15AM Eastern on Saturday, September 26.
"Oral medications need to go through something called ADME: Absorption, Distribution, Metabolism and Elimination, and due to that, it takes five half-lives of the drug to reach the Cmax steady state."
This isn't the case with intravenous delivery of sotalol—pharmacokinetic data suggests that sotalol delivered via IV facilitates a one-day initiation of the regimen, which can be continued by the patient, orally, after discharge without three days of in-hospital monitoring.
The clinical and economic benefits are significant, and especially crucial during the on-going COVID-19 crisis, as Durie outlines in her presentation. "Any time you're reducing hospital length of stay, you're reducing the chance of infection—not just during COVID times." Plus, the cost savings are estimated at $3,000 per patient.
AltaThera Pharmaceuticals is a relatively new company focused on improving patient outcomes via this initiation protocol, which Durie explains in greater detail in her presentation. "This is our first and only product," says Durie. "So we are very committed to our company mission: to improve patient outcomes and reduce overall hospital costs."
There's still time to register for our 8 CEU virtual event!
RNs, RTs and all Cardiovascular Technologists (RCIS, RCES and all CCI credentialed professionals included) can earn 8 contact hours of continuing education by attending the Alliance of Cardiovascular Professionals' inaugural Virtual CE Festival Saturday, September 26. Register and attend complete sessions to earn credit—drop-in or drop-out on your schedule, from your home. Plus, pay what you think is fair.
Outstanding doctors and healthcare professionals from Cleveland Clinic in Ohio and Steward Health, St. Elizabeth's Medical Center in Boston, MA will present nine hours of cutting-edge cardiac continuing education from 8AM to 5PM ET on Saturday, September 26 in a livestream format. Access easily from anywhere—no downloads necessary. Chat with other attendees and presenters with LIVE, REAL-TIME Q&A throughout the presentations.
ACVP members, employees at Cleveland Clinic and Steward Health, and current students may all attend and earn CE, FREE! Others may attend for as little as $1!