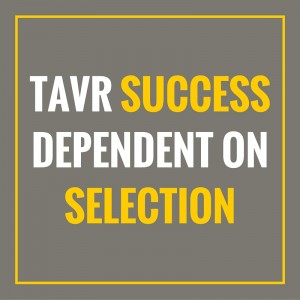 More good news for TAVR interventions - better case selection contributed to significant reductions in complications and longer term mortality.
The most pertinent risk factors? COPD and previous stroke.
In the January issue of JACC: Cardiovascular Interventions, Nirat Beohar, MD and colleagues reported on outcomes of more than 1,000 patients undergoing Transfemoral Transcathether Aortic Valve Replacement from 2011-2012, finding a significant reduction in incidence of complications such as paravalvular regurgitation and longer term all-cause mortality  in the PARTNER Registry since 2009.
The authors attributed the cause of these reductions to a multifactorial confluence of "improved case selection and procedural techniques and increased site experience," but with regards to 1- and 2-year mortality after TF-TAVR, the authors found the reduction to be "highly dependent on strategic case selection."
It had been previously identified, write the authors, that "patients with chronic lung disease, especially oxygen dependent and those with pulmonary hypertension, experience higher mortality after TAVR compared with those without," and that previous stroke was also an "important risk factor for increased mortality after TAVR."
Other risk factors that authors found to be lower in the more successful enrollment cohorts were previous transient ischemic attack, porcelain aorta, previous chest wall radiation and chest wall deformities.
Why it matters to you? Everyone can be a safety champion.
If your organization is conducting TAVR procedures, you can be a better patient advocate if armed with a better understanding of the risk factors related to TAVR complications and mortality.
RELATED POSTS: Back in October, ACVP blog featured three posts on newly identified cardiovascular risk factors, such as a new metabolic syndrome score, a new genetic risk identified in women, and a "stem cell factor" found to be as predictive as cholesterol levels.