The Future of Nursing, in particular, has created considerable controversy regarding whether APRNs should be licensed to practice independently in primary care settings. The hot-button issues that are part of that controversy, such as practice independence, competition, and restraint of trade, are not germane to the present discussion on cardiovascular team-based care. Issues that are germane to cardiovascular team-based care, such as interdependency, cooperation, autonomy, efficiency, and effectiveness, however, are not controversial. (read the 2015 ACC Health Policy Statement on Cardiovascular Team-Based Care)
The Institute of Medicine, in collaboration with the Robert Wood Johnson Foundation, published a report entitled The Future of Nursing: Leading Change, Advancing Health in 2010, which the ACC's Health Policy Statement mentions as generating "considerable controversy between nursing organizations and physician organizations."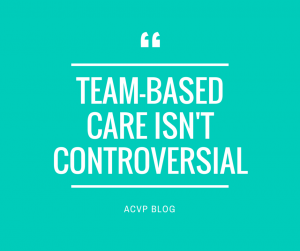 The statement suggests that arguments over practice independence have no relevance to the well-substantiated argument in favor team-based care, but it's easy to see how those lines get blurred. Professionals feel threatened when scope-of-practice barriers are taken down for professionals with a different educational knowledge-base.
The issue? These fears can be very influential in maintaining state regulatory barriers to team-based care.
Take California, for example. RCIS-credentialed professionals are being pushed out of Cath Labs because they are legally unable to assist during procedures involving fluoroscopy, despite being educated in radiation as it specifically relates to Cath Lab procedures. Californian Cath Lab teams are losing a valuable member of the team with a specific educational knowledge base that neither the remaining RT nor RN has.
A group of RTs has blocked an exemption that would allow RCISs to sit for the fluoroscopy permit exam. One of their arguments? It threatens their scope of practice.
ACVP Blog will bring you more information about this regulatory issue in California. You can subscribe by entering your email in the opt-in box on the sidebar to get ACVP Blog updates sent directly to your inbox.
It seems that one obstacle to team-based care is that professionals have come to see their value in terms of what they are legally allowed to do, rather than their education, even though these regulations are often tied to educational standards. (And these regulations & standards can be well overdue for updating.)
The team-based care framework does not devalue these professionals' distinct educational background. Allowing other professionals with different educational backgrounds to do procedures or take on roles that they are qualified to do does not threaten anyone's position---it simply distributes and optimizes care giving.
Cost-savings are evident, because every member of the team contributes more value, not less. While team-based care advocates are suggesting that roles should change, a tenet of the Institute of Medicine's Core Principles & Values of Effective Team-Based Health Care is that these roles are clearly defined---a tenet no one is arguing against.
What do you think? What are the regulatory barriers to team-based care in your state? Is your organization promoting team-based care? Is there resistance?