Results from the CE-MARC 2 trial, announced today at the European Society of Cardiology (ESC) Congress, suggest that unnecessary angiography could be significantly reduced by favoring noninvasive cardiovascular magnetic resonance (CMR) imaging or single photon emission computed tomography (SPECT) to initially investigate patients with suspected coronary artery disease (CAD).
These findings could have an "important impact on referral rates for invasive coronary angiography," says the ESC press release.
"Despite the widespread availability of noninvasive imaging, invasive angiography is commonly used early in the diagnostic pathway," wrote the authors of the 2015 article discussing the rationale behind the CE-MARC 2 trial. "Consequently, approximately 60 percent of angiograms reveal no evidence of obstructive coronary disease."
"Approximately 60 percent of angiograms reveal no evidence of obstructive coronary disease.
The first large-scale comparative effectiveness trial to evaluate the efficacy of CMR imaging as an initial diagnostic strategy, CE-MARC 2 showed CMR to be superior to international guidelines-directed care and statistically similar to SPECT-guided care "in reducing unnecessary angiography," reads the study published today in JAMA.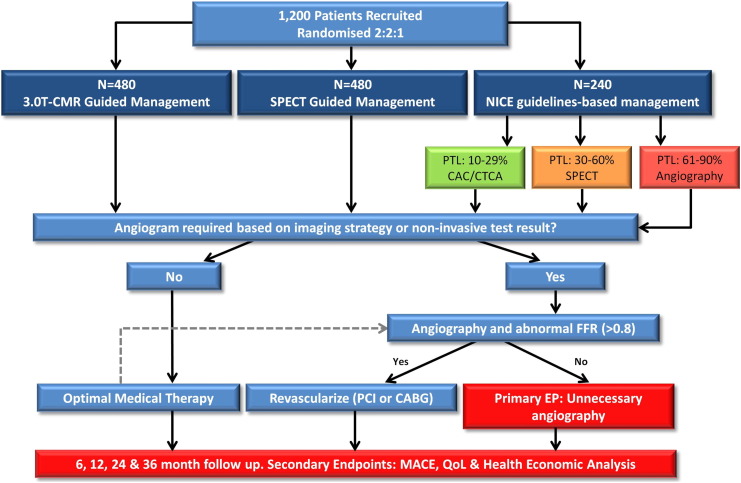 Rather than stratifying by likelihood of coronary artery disease, using functional imaging—CMR or SPECT—as a first-line strategy resulted in substantially reduced odds of unnecessary angiography—even in patients with a high, 61-90 percent likelihood of CAD.
In the guidelines-directed care group, 28.8 percent of patients underwent unnecessary angiography as opposed to only 7.5 percent in the CMR group and 7.1 percent in the SPECT group.
Despite similar results in CE-MARC 2, CMR was shown to have a "higher diagnostic accuracy" compared to SPECT in the original CE-MARC trial. "[CMR] is increasingly recognized as having high diagnostic accuracy and prognostic value," reads the study.
Indeed, new innovations in CMR point to even more encouraging possibilities for the future. In May, for example, we learned of a new CMR technique that could produce higher quality images in less time using high frequency percussive ventilation to eliminate the patient's need to breathe and reset.
With encouraging results from large-scale studies of CMR efficacy, like this one, we might soon see broader use of CMR imaging in many different contexts.