Last week, we celebrated Cardiovascular Professionals Week and announced our inaugural class of Fellows of the Alliance of Cardiovascular Professionals, a community of outstanding individual leaders in cardiovascular service delivery. So everyone can get to know these outstanding and deeply experienced ACVP members a little better, we asked them questions about what the future of cardiovascular services holds for professionals.
The Future is Bright for Cardiovascular Professionals
Most of our fellows see growth in cardiovascular services to be a boon for the profession. "This is a profession that is growing and flourishing," said Andrew Graves, RCIS, FACVP, a Senior Territory Sales Manager with ACIST. "Yes, there are challenges associated with that growth. But the future is bright, in that there is high demand for professionals with cardiovascular skills—specific skills that take years to develop and optimize."
"Professionals in cardiovascular service [will see] longevity and growth," said Alphonso Beard, Jr., CCT, RCIS, FACVP, currently an independent consultant for cardiovascular travel staffing agencies. "According to projections published in the November 2013 issue of Health Affairs, the demand for cardiovascular services will grow about 20 percent by 2025."
"I think the future is very bright for our field, with new procedures being done all the time," said John Jennings, CRT, RRT, NPS, ACCS, RCIS, FACVP, an Implementation Team Lead with Cardiosolution. "It is a wonderful field for new people looking to going into healthcare."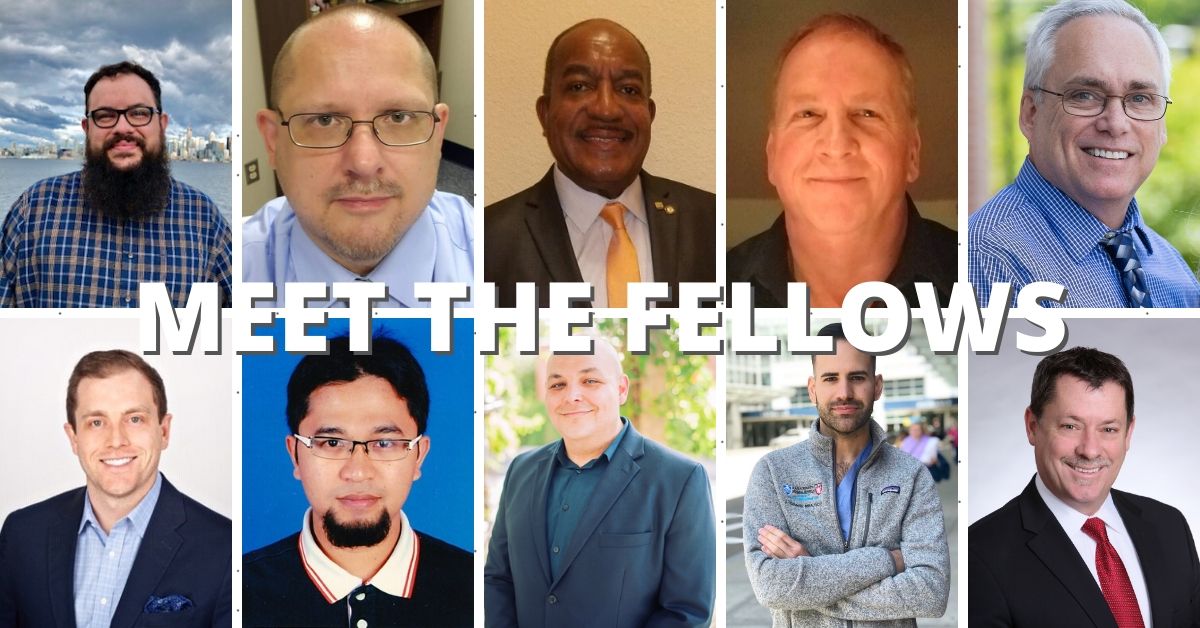 New Tech Shapes the Future of Cardiovascular Services
Many also see rapid advancements in new technology as particularly influential to the field, as well as to the value and expectations of cardiovascular professionals.
"The future is very good for this profession in both the EP lab and the cardiovascular lab," said Christopher Jolly, MS, RCIS, FACVP, an Instructor of Invasive Cardiovascular Technology at Central Piedmont Community College in North Carolina. "Structural heart, peripheral vascular and electrophysiology labs are going to continue to grow in importance and technology, enabling the graduates of today to see the same type of growth I saw when stents were the leading edge technology."
"The future for cardiovascular professionals will continue to expand yearly with the development of new and/or improved structural heart and endovascular procedures," said Scott Fylling, RCIS, FACVP, Director of Cardiopulmonary Services at Lake Health in Ohio.
"Future technology will continue to enable more sophisticated procedures expanding the use of minimally invasive procedures into areas that were previously only the domain of surgeons," said Christopher Steelman, MS, RT(R)(CI), RCIS, FACVP, Assistant Professor and Coordinator of the Invasive Cardiology Program at Weber State University in Utah. "Cardiovascular professionals will soon be performing advanced imaging facilitating more accurate vascular navigation and device placement. Soon, the use of robotic systems will be standard practice in the cath lab."
"Technology is evolving rapidly, with each year bringing new therapies and even new understandings into the workings of the cardiovascular system," said Geordie Baker, MHA, RCES, CEPS, FACVP, a Lead EP Technologist with Swedish Heart and Vascular Institute in Seattle. "To adapt to these changes, hospital leadership understand that various disciplines (EP/Cath/IR/etc) will require staff as specialized as those fields."
"As with most technology, devices are getting smaller, imaging modalities are getting clearer, and procedures that were once high-risk are getting less risky and simpler," said Jeff Richards, MBA, RCIS, FACVP, at Massachusetts General Hospital. "I believe these trends will continue; making the professionals working in cardiovascular services busier as they try to juggle an increased number of patients with even more new procedures, devices, and toys."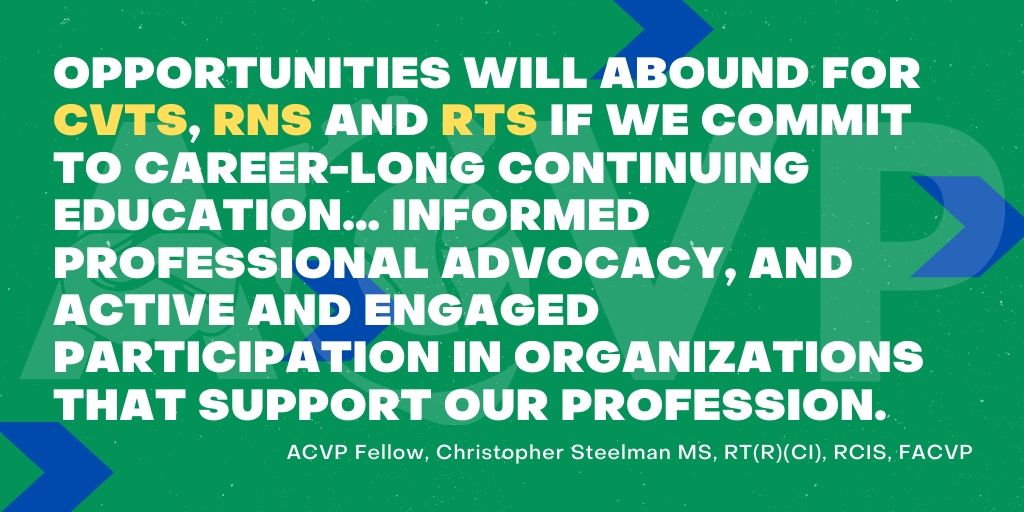 Leadership Opportunities Should Expand
Along with the expanding field and proliferation of new technology, leadership opportunities for non-physicians in cardiovascular services will likely also expand, according to our fellows.
"I believe that there will be a great need in the coming years for trained leadership within cardiovascular service departments across the country," said Eric Kallstrom, MBA, ACS, RDCS, RCS, FASE, FACVP, a Manager of Noninvasive Cardiology at Baylor Scott & White Health in Texas. "It is important that current healthcare leaders recognize this opportunity to mentor their staff and guide those interested in future leadership roles."
"I believe that there will be more opportunities and pathways in the future for these extraordinary individuals to advance to next level positions such as Physician Assistants, Physicians, Managers/Directors, etcetera," said Benjamin Ochoa, RCIS, RCS, BS, FACVP, Program Director for Invasive Cardiovascular Technology at St. Phillip's College in Texas.
Education is Crucial as Expectations Increase
Of course, with the proliferation of new technology and opportunity, knowledge expectations of current and future cardiovascular professionals will likely increase. Continuing education, like that sponsored by ACVP, will be crucial for professionals to excel.
"I believe that we are at the threshold of an evolution in CV services," said Mark R. Baker MHA, BA, RCIS, MICP, FACVP, Cardiovascular Service Line Director at Conway Medical Center in South Carolina. "I believe that CV professionals will be called upon to learn and do more as we see advances in non‐invasive imaging, interventional technologies and developments in the structural heart, peripheral vascular and electrophysiology areas."
"CV professionals will have to have a varied background in several modalities so that organizations can cut overall costs and deal with the shortages we are currently seeing in staffing," continued Mark Baker. "This type of environment will create a larger demand for education and experience as a commodity. I would encourage young CV professionals and students to read what you can, practice what you can, watch what you can, listen all the time, and never pass up an opportunity to get yourself involved with anything new."
Other fellows echoed this sentiment. "To me, it's very important for today's specialists to learn each area in order to maximize their potential," said Fellow Christopher Jolly. "[For students to] not only to become aware of the breadth of their chosen career field but also to learn the basic skills and necessary knowledge of each area."
"I think this new decade will see an increase in specialization coupled with an increase in training," said Fellow Geordie Baker. "That specialization is borne out of a commitment to both clinical and didactic education. Training is not always easy and can be expensive. Yet, this investment can greatly improve staff morale, lead to better patient outcomes, and reduce a lab's inefficiencies."
"Increasingly complex procedures are not possible without highly trained multidisciplinary teams of cardiovascular professionals," said Fellow Christopher Steelman. "Opportunities will abound for cardiovascular technologists, registered nurses and radiologic technologists if we commit to career-long continuing education... informed professional advocacy, and active and engaged participation in organizations that support our profession."
Note, the Alliance of Cardiovascular Professionals is the only organization catering specifically to non-physician professionals working in all specialties of cardiac care. Professionals and students who haven't, already, should consider joining ACVP.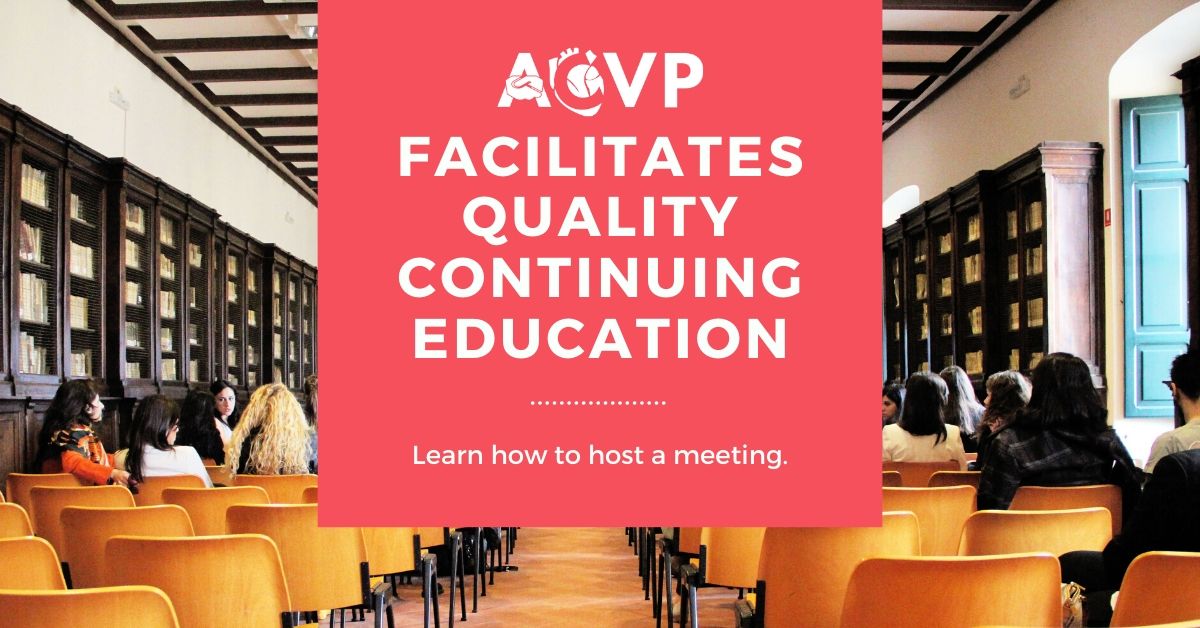 ACVP Facilitates Continuing Education
It is a crucial part of the Alliance of Cardiovascular Professionals' mission to support the proliferation of excellent continuing education for non-physician cardiac professionals to ultimately support their excellence in the future of cardiovascular services.
To facilitate this, we make it as simple as possible for organizations to organize quality, live continuing education for their staff and other regional professionals through our regional cardio conferences. ACVP staff directly helps site leaders organize and secure vendor support for these efforts. Learn more about hosting an ACVP cardio conference, here.