My boss, Peggy McElgunn, is a truly excellent mentor and advocate. She has decades of experience serving as the Executive Director of the Alliance of Cardiovascular Professionals as well as with other professional associations and non-profit organizations across healthcare and other industries. Her wealth of knowledge and expertise is no small part of the value ACVP members receive for their dues investment. And in thinking about continuing the spirit of Cardiovascular Professionals Week year-round, I asked her to share with us some of her thoughts on the value of an association of cardiovascular professionals, what supporting an association like ACVP really does both for individuals and for the profession as a whole. - Kurt Jensen
---
Professional associations have existed for as long as people have gathered and there have been trades, crafts and professions. It is apparent we have a basic need to form communities with people who share similar interests. There is no doubt that, together, we are able to professionally accomplish more than any one of us can do independently.
Social Networks Can't Replace an Association of Cardiovascular Professionals
In an era of the internet and social communities, the value of professional associations have been questioned, particularly by younger entrants into a field. But the internet does not curate our professional connections. The internet does not promote professional recognition as a verified expert or qualified voice. The internet does not catalog the wealth of professional information and provide us with specific support to enable us to maximize our time and potential.
Online social networks, alone, are a poor substitute for an association of cardiovascular professionals. Only an association with a history of commitment and dedication to its members can do this effectively. 
It is through a professional association of cardiovascular professionals that we are able to share information that advances our practice. We all have unique experiences that help shape our understanding and advance our skills. It is only through collaboration that we can exchange individual experience and engage in a wealth of possibilities beyond the reality of our individual day-to-day. Associations enable us to share our efforts, maximize our understanding, and advance our own skills for circumstances we may not have faced, personally, but that we can imagine through someone else's practice.
This is especially important in healthcare where technologies are changing and work is advancing at a pace that can make your head spin! Our shared experience helps us keep up with the rapid pace of change, and keep improving.
Associations Facilitate Advocacy
Sharing information isn't the only way people coming together can make a difference. Another way is through educating others regarding the work we do. We are better able to explain impact on healthcare and the importance of our role through our collective voice.
ACVP has been called on multiple times in multiple states to help clarify the value and importance of each of the disciplines that contribute to cardiovascular care. This results in enhancing the patient experience and improving quality.
This is no small thing. Without a unified voice and organization, those with less experience, less training and less education as it relates to specific cardiovascular arenas would end up providing lesser care, reducing patient access—due to manpower shortages, for example—or costing more money for both facilities and patients alike. We need to work together to support the highest quality care possible.
Associations Promote Professional Skills
Another important intangible benefit from participating in an association of like-minded professionals is the ability to build skills in a supportive environment through opportunities that are difficult to access on-the-job, or without going to school for advanced education. These include important and invaluable skills related to writing, advocacy and leadership.
With the support of professional committees, mentors and staff, individuals get the chance, through a professional organization, to share expertise, lead initiatives, publish information and get first-hand experience building skills that will further their careers.
This activity is especially vital in healthcare – we can share case studies, we can offer insights, and we can substantiate our opinions with both research as well as first-hand experience. Of course, this requires engagement and involvement. Sometimes this isn't possible for individuals who are stretched with a lot of commitments. But when it is possible, the investment is more than worth it. The advancement you can achieve in such a supportive community is remarkable!
In fact, it is often noted that leaders of organizations and service line directors got their start through involvement with their professional community – be that local, regional or national/international, all of which are facilitated through ACVP. Professional associations can speed up personal development enormously!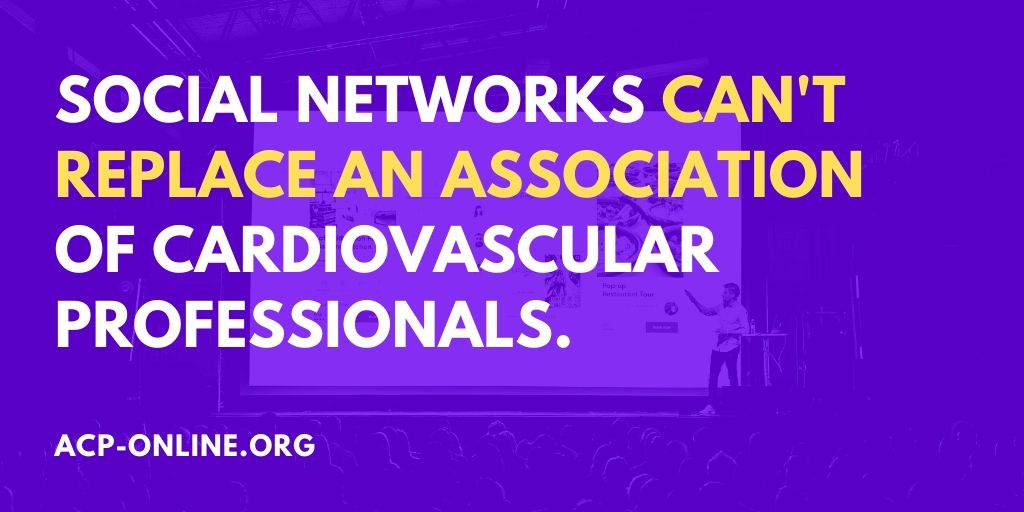 Meetings Matter, and We Make it Easy
Meaningful networking can be easier when it happens face-to-face at meetings. That's no small part of why ACVP supports over twenty regional conferences each year. If there's an ACVP meeting in your region, GO! This will give you a chance to meet with experts and others and begin to build a community outside of your day-to-day workplace, (even if many of those attending the meeting are co-workers). Just seeing professionals in a setting other than the lab makes a difference—there's nothing like learning and playing together to build bridges and create bonds. These meetings facilitate the spread of best practices.
If there isn't an ACVP conference in your region, give the office a call at 804.639.9213, or learn more about hosting a meeting, here. We make hosting a meeting easy for institutions. Even if you are an introvert, ACVP staff members will help you through the whole planning process, making it easy and reinforcing. We make it our mission to spread access to these awesome professional opportunities.
Connect to an Association of Cardiovascular Professionals
Of course, meetings aren't the only way to network effectively through a professional association. In fact, networking is one of the most personally valuable reasons to join an association of cardiovascular professionals—though that value can often be overlooked.
Serving as a mentor or becoming a mentee, for example, is a great way you connect with like-minded professionals who need your support or can provide you valuable guidance. Who couldn't benefit from a new connection... possibly a future friend?
Or, ask a question of the community of experts. Rather than throw a question out to the peanut gallery on social media, use ACVP's CONNETWORK program to get a wealth of in-depth answers and follow up to thank or dive deeper with those that have provided guidance. This is a great way to build your professional network and get personal support.
These are just a few examples of how professional affiliation can help – either advance your career, improve your knowledge or even build relationships. There is no doubt that a group of professionals who share similar work environments can help you feel less isolated.
There is even an opportunity to become more successful through participation. Don't give it a second thought – the low investment in membership reaps tremendous rewards. You can give back to your community; you can advance your career; you can reach new people and gain new friends. There really is no single better investment of one's time and money than membership in an association of cardiovascular professionals. Join the Alliance, today!
---
Peggy McElgunn, Esq.
Executive Director, Alliance of Cardiovascular Professionals