Additional cardiac imaging often unnecessary
Last week, Mayo Clinic researchers showed that using a shared decision-making aid to involve more patients in care decisions can prevent both unnecessary hospitalization and more advanced cardiac tests for patients with low-risk chest pain.
The "Chest Pain Choice" shared decision-making aid is one of the latest evidence-based practices built on high-sensitivity troponin rule-out of acute coronary syndrome for ED patients reporting acute chest pain. After the one-hour test, an additional "one minute" discussion to educate patients about their risk and reach a shared decision can prevent further unnecessary and costly testing.
ACVP Blog has discussed decision-making for acute chest pain before, suggesting that the fact the cardiac biomarker test can safely and accurately rule-out acute coronary syndrome within one hour "challenges [the] need" for commonly-used noninvasive imaging prior to patient discharge.
In fact, that article argued that the paradigm for noninvasive cardiac imaging might shift from better-safe-than-sorry rule-out to characterizing myocardial disease in cases where troponin levels are abnormal. In other words, additional noninvasive cardiac imaging might best serve as the "gatekeeper" for more invasive tests or therapy.
Changing the "default" decision for the better
While these arguments are now common in research literature, clinical reality often pushes doctors to "default to admission" for further observation and testing, says Erik Hess, MD in the Mayo Clinic press release. "Clinicians have a very low risk threshold... This presents a substantial unnecessary burden and cost to the patient and the health care system."
By educating patients and involving them in this decision, this "default" behavior can be changed to provide more appropriate and less expensive care for patients with low risk. "When patients are involved with their care decisions, it is more likely they will get the right care for their concerns," says Dr Hess in the press release.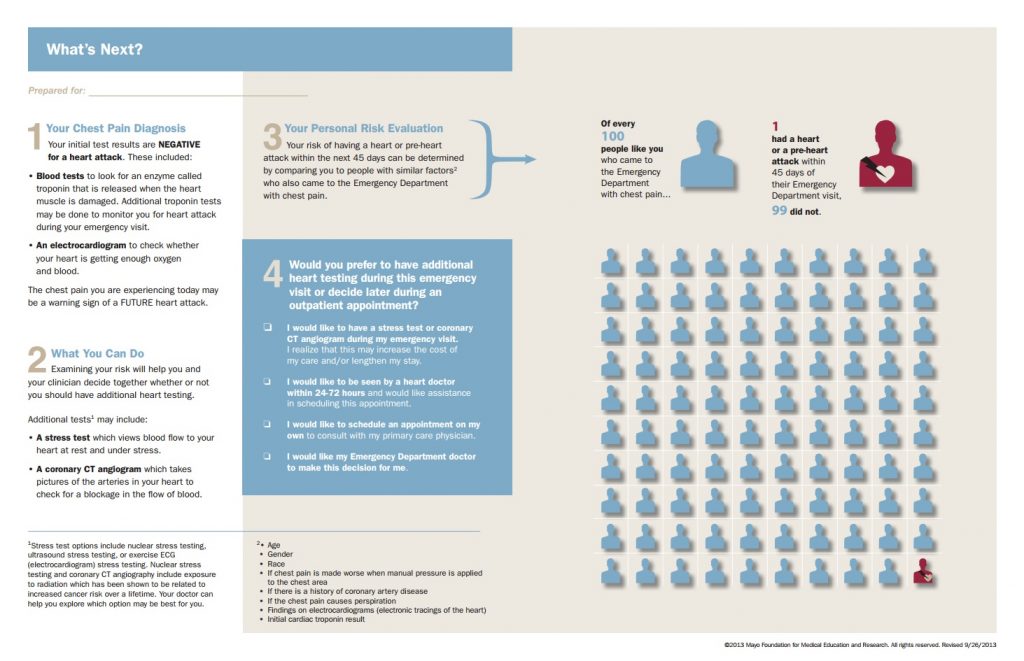 In the randomized clinical trial, use of the shared decision-making aid resulted in less frequent admissions for observation—37 percent with the shared decision condition versus 52 percent without. In addition, more patients chose to have additional cardiac stress testing performed later in an outpatient setting—30 percent versus 17 percent.
Significantly, "both patients and physicians were satisfied with the decision aid and its use," reads the press release, and involved only one additional minute of clinician time on average.
What do you think? Should this shared decision aid be used in your practice?